How do Hamster Shows work?
I am often asked questions about showing hamsters as a hobby, this page tries to answer some of the most common questions!
What is a Hamster Show?
The Hamster Shows which I attend are one day events (usually 10am - 4pm on a Saturday) held in village halls and sport centres around the country. They are both social and gently competitive - people bring their hamsters to be judged against a "perfect" standard of hamsterhood and the hamsters are given marks based on how well they do. The hamsters with the best scores win.
How do Hamster Shows work?
Hamster enthusiasts from all over the UK bring their hamsters and put them into special show pens on a long table - this is called "benching" the hamsters. The pens are all identical so that the Judges cannot tell who owns which hamster, although each hamster has a unique number issued for that show which is collected at the start from the Show Secretary and stuck onto the pen on a sticker so that the owner can get the right animal back! Before the event, the people entering hamsters into the main show will have contacted the Show Secretary and entered each hamster into a 'main class', which groups that animal with other hamsters that have the same colour or type of fur. When they arrive, most people pay the Show Secretary their entry fees on the day - people can come to hamster shows for free but to enter a hamster into a main class costs around 25p, with 5p more for every additional class entered. As well as their main class, most hamsters can also be entered into a number of secondary classes which judge things like the best young hamster, best hamster from a small hamstery (less than 12 hamsters) and so on. Once all the hamsters are benched, judging starts, and the owners of the hamsters are not allowed to interfere with the show pens or indicate which hamster is theirs anymore. Syrian hamsters and Dwarf hamsters are judged seperately - Dwarf hamsters of all types are shown singly or in the pairs they usually live with in wedge-shaped brown wood cages (or may be shown in Syrian pen if it is not possible to get a Dwarf pen), Syrian hamsters are shown individually in rectangular black-painted cages, whose design has not changed since the start of UK hamster showing in the 1940s.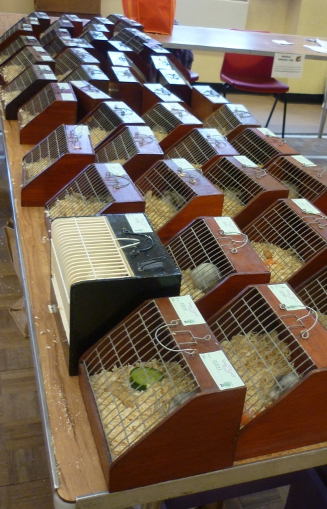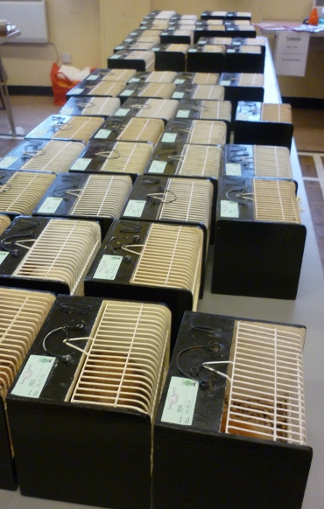 All the hamsters in a main class are taken to the judges table in their show pens by the Pen Steward, and the judge takes each one out one at a time and inspects them by placing them onto a wire tray (a bit like a cooling rack!) so that they can see the top and the underside of the hamster easily. They call out marks for different aspects of the hamster to the Book Steward, who sits beside them and records the marks without offering an opinion - although often the Book Steward is training to be a judge themself, and may ask questions about how marks have been decided. All hamsters are marked against the written National Hamster Council Standard for their colour and fur type, so the animals are competing against the standard rather than the other hamsters there on the day - in the unlikely circumstance that all the hamsters in a class are very poor, there is no obligation for a judge to award a First Place. The marks are added up by the Book Steward and written on the cage sticker by the Pen Steward, who returns the hamster to the bench and fetches the next group for judging. The best four hamsters in each class also get a coloured sticker on their cage showing how they placed in their main class - Red for First, Blue for Second, Green for Third and Yellow for Reserve. As they go back to the bench, the hamsters are arranged in order of their score, so the best hamsters end up at one end of the table by the end of the show and the lowest scoring hamsters are at the other. During this time people look at the hamsters as they come back and see how they are doing, but still cannot indicate which ones are theirs.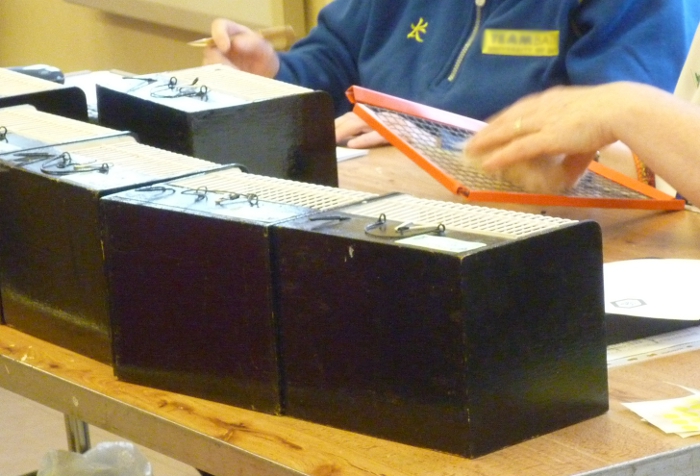 Once all of the (Syrian/Dwarf) hamsters have been judged in their main class and returned to the bench, the judge and Book Steward start with the highest-scoring hamsters and work down the table, looking for the top three hamsters in each of the other classes - this is decided on the overall score they have already got. If there are any ties, the judge must decide which hamster to "plus" and put above the other. A very small number of truly exceptional hamsters may be awarded a "Certificate of Merit" - collecting these is what creates an official Champion or Grand Champion hamster. At the end of the show everyone tidies up and collects their hamsters. People may ask to see the judges' notes on their own hamster to see what it scored well and badly on. The Show Secretary has written out coloured prize certificates for the top four hamsters in every class and these are put out on a table grouped by owner to be collected - usually most people have at least one, but some larger hamsteries can have a thick stack! There are no money prizes at most hamster shows. After the hall is tidy, the winners of each class are announced and trophies are given out to some of the class winners and to the Best In Show.
Why do people hold Hamster Shows?
Like any other hobby, people enjoy holding hamster shows for a variety of reasons. Hamster Shows are a good excuse to meet like-minded people and talk about hamsters all day (often people outside the hamster community are surprisingly unwilling to discuss hamsters for more than an hour at a time!). Breeders can get an objective opinion on how their stock is measuring up, and everybody likes it and feels proud if their hamster wins something. There are many exotic colours and types of hamster on the bench which it is not usually possible to see in pet shops, and some of these interesting hamster types are available to buy on the Sales Table.
Can I go to a Hamster Show?
Anybody can come along to a hamster show as a visitor to look at the hamsters on the bench, chat, have a cup of tea and buy a tombola ticket/bag of sawdust/baby show hamster. Entry to NHC hamster shows is free to humans (but please do not bring your pet dog!).
It is also OK to bring along your hamster and enter it in the show. If you turn up on the day without contacting the Show Secretary in advance, you can enter your hamster into the Pet Class on the day (which is usually judged at 2pm, so you need to have your hamster booked in well before that).
You can also enter your pet hamster into the main show if you arrange it in advance - the hamster does not have to be a pedigree animal to enter, although you should bear in mind that pet shop hamsters are often bred more for an attractive mix of colours than for the criteria that are judged in shows (in particular they are usually a lot smaller than pedigrees and their faces are longer and more mouse-like) so it may not do as well as you would hope if it is not from a show background.
Occasionally hamster shows also have a 'pet class' type category for other small rodent pets that are brought on the day (rats, mice, gerbils, degu, etc) but this is not available at every show so you should check with the Show Secretary before bringing along a mouse to enter!
If you are entering your hamster into the pet class you can bring it along in a small temporary cage or hamster carrier (there is not room for 80cm x 40cm cages on the table and they would be difficult to transport). You can see the sort of carriers on a typical Pet Class table in the picture below. To enter the main show you will need an official show pen, fortunately these can be hired from the club for at least the first two years of showing (arrange this in advance with the Show Secretary, pens usually cost 1 pound each to hire). If you decide to get your own pens people will be able to put you in touch with members of the NHC who make them to the standard requirements, or the plans are freely available to make your own.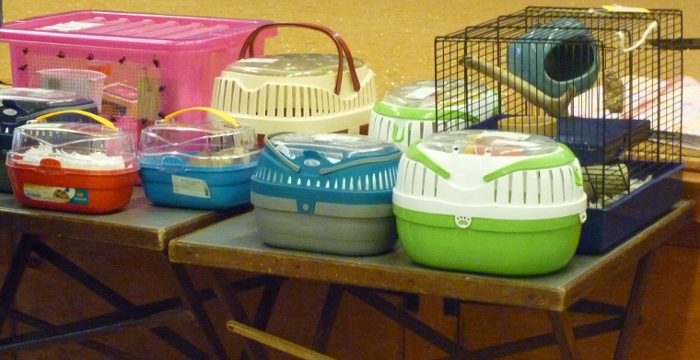 How do I find a Hamster Show?
If you are a member of one of the three National Hamster Council affiliated hamster clubs in the UK (the Southern, Midland or Northern), you will recieve a copy of the Journal in the post each month, which contains the "Show Schedule" of forthcoming shows (the details of where it is, who to contact, and what classes are available). This information is also available to the general public over the internet, show details are listed on the website of Towy Vale hamstery and usually schedules are posted on the hamster Forums Mad About Hamsters andc Hamster Central in the appropriate places.
Will my hamster win the Hamster Show?
Yes and No. If you are bringing a pet shop hamster to a show for the first time and entering it into a Main Class, it is extremely unlikely that you will win Best In Show or even one of the top four places against the experienced show hamsters (although pet shop hamsters picked out by people who know what to look for can and do place in shows). However, if you entered the same pet hamster into the Pet Class where marks are mostly awarded for tameness and personality, you could quite plausibly win a rosette if your hamster behaves.
If you have bought a pedigree hamster from a local NHC-registered breeder or from the Sales table at a previous Hamster Show you have a lot more chance of your hamster "placing" and winning a main show certificate, especially if you are able to enter it into smaller classes such as "Novice Owner" etc where you might have less competition from the bigger breeders.
Of course, the best way to get a very high score in a hamster show is to breed your own perfect hamster - bear in mind that the hamsters on the Sales table are the pups which the breeders decided not to keep for themselves, if you breed your own stock you are able to keep the 'pick of the litter' as your own entry.
What else happens at a Hamster Show?
As well as watching the main show and pet class being judged and talking to other exhibitors, most hamster shows usually also have a tombola, a stall selling hamster equipment and a cafe with hot/cold drinks, cake, and hot sandwiches. Some of the larger shows take place as part of a collective pet show with many different animal groups holding their shows at the same time in the same place, so there are other animals to look at as well (usually guinea-pigs, rabbits, gerbils, rats or mice, although at the larger agricultural fairs there can be farm animals and all sorts of other attractions around as well).
A typical Sales Table for young hamsters is shown below - the labels on the top of the tubs say if the hamster is male or female, the name of the breeder and the colour/fur type, and the papers beneath them are the pedigree sheets. Under the table are hamsters which have already been reserved or will be brought out for sale once the ones on top have sold, and plastic tubs for buyers to take their hamster home in. At some hamster shows it is also possible to find retired breeding stock looking for a loving pet home where they can be spoiled as an only hamster for the remainder of their life.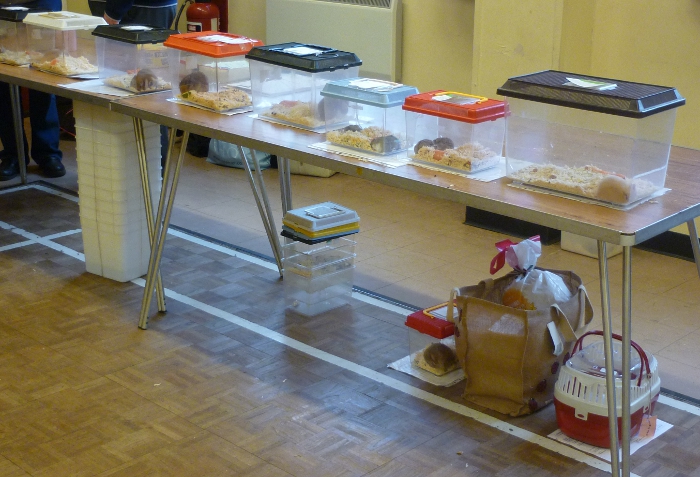 Do you have to specially train your hamster?
There is no special training required for a show hamster - they do not have to perfom agility tests or stand perfectly still whilst being judged like dogs being shown at Crufts. Having said this, it does help if a hamster is very used to being handled by a variety of different people so that they are excited to come out when the Judge opens their cage and they do not try to bite or wee on the Judge out of nervousness! Pet class hamsters are judged on their friendliness, so this is especially important there.
Are Hamster Shows cruel?
I personally do not believe that hamster shows are cruel, and would not support or attend them if I felt that they were a cause of unecessary suffering to hamsters.
Although it is presumably unsettling for a hamster to travel to a show in a temporary cage and then be put in a show pen in the vicinity of unfamiliar hamsters, the pens are well-designed to keep contact between hamsters to a minimum (they cannot see or reach each other when benched). Because the shows are held during the day, within half an hour of judging starting the vast majority of benched hamsters have gone to sleep (This can be seen in the photo below, showing some non-Grantabrugge hamsters). The hamsters all stay asleep until the show ends, although with the minor interruption of being judged for less than a minute in the middle.
The show pens, sales tubs and pet class carriers are undoubtably too small to be a suitable permanent home for a hamster but they do allow the hamster to stretch, stand and move around, and are large enough that the hamster does not have to lie where it wees (the experience is sometimes favourably compared to a human taking a long journey in a car) - and it is also common for exhibitors with their own show pens to incorporate them into the hamster's normal playtime at home to get them used to the space in advance.
Each hamster must be provided with a dog biscuit to gnaw on and provide food, and a piece of fresh vegetable to provide moisture during the day (hamsters are able to derive a lot of their liquid requirement from moist food like cucumber and in the early days of hamster keeping were sometimes raised entirely without water, although this is no longer recommended) - the hamster can be disqualified if the vegetable and biscuit are not present.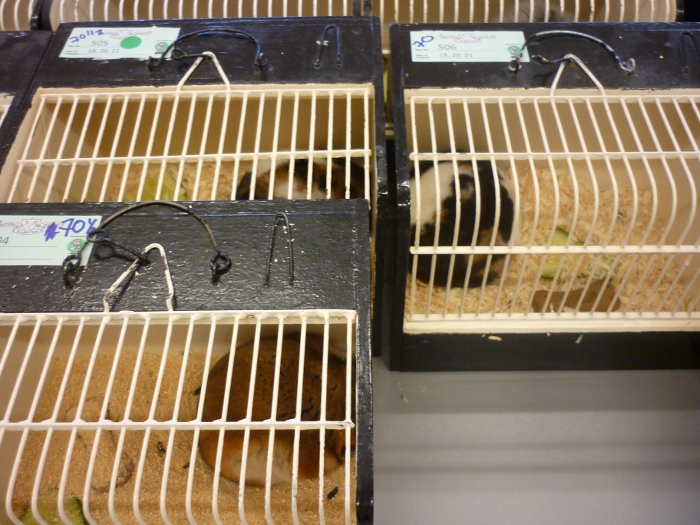 Have any Grantabrugge Hamsters ever won a Hamster Show?
Details of the various placings won by the Grantabrugge Hamstery hamsters can be seen on their individual pages. No Grantabrugge Hamster has ever won a Best In Show, although Halle (bred by Paradise Hamstery) has repeatedly won her class in 2013. Several of the current hamsters in the hamstery are "Non-Standard" colours (colours other than those for which there is an NHC standard, such as Honey-Black) due to the particular colour specialisations and breeding aims of this Hamstery, and this means that they are not allowed to enter secondary classes and are not awarded any of the 20 possible points for colour at shows - this means that they have fewer opportunities for success compared to Standard hamsters and so it is even more exciting when they place in their own class!